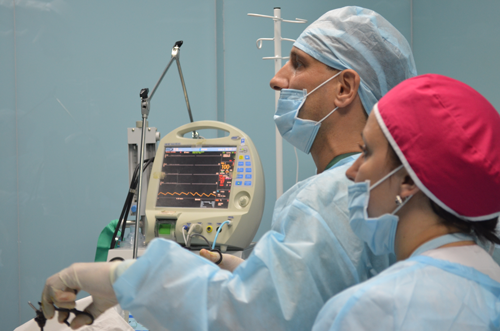 From the state of health of a woman depends not only her own mood, but also well-being, coziness and comfortable relationships in the family. Regular examination of the female body is the main preservation for maintaining health and the quality of life of a woman.
In most cases, untimely recourse to a gynecologist leads to the neglect of many diseases, the chronization of the process, infertility, the development of complications, the most dangerous and difficult of which is malignancy.
Doctors of gynecologists MC "Medland" are leaders in that area and their experience covers a wide range of services, including:
a full list of outpatient gynecological

care in the women's clinic, namely:

consultation and examination with a gynecologist;
diagnosis and treatment of menstrual problems, infertility, problems associated with menopause;
ultrasound of the pelvic organs, mammary glands, thyroid gland;
a complete (full) examination of the hormones, all sexually transmitted infections, abnormal smears;
treatment of erosion and dysplasia of the cervix by the most modern methods;

a full range of operative gynecology

in the treatment of diseases such as endometriosis, uterine myomas, ovarian cysts, cervical polyps and others.
If surgical intervention is required, the patients can be sure that they are in the most reliable hands. Our doctors have a lot of experience in all areas of gynecological surgery, including the removal of fibroids, treatment of endometriosis, myomectomy, hysterectomy, removal of the ovarian cyst etc.
Depending on each specific situation, gynecological operations can be performed both by classical methods and modern endoscopic technologies – such as laparoscopy, hysteroresectoscopy and operation with vaginal access. Minimally invasive methods provide for minimal interference into the body, which, in turn, means a quick and easier recovery.
The main goal of the surgeons of our clinic is to achieve maximum effect from the operation, with minimal traumatization of healthy organs and tissues.
Thanks to such organ-preserving treatment, a quick rehabilitation takes place, a return to normal daily life. And most importantly, it remains an opportunity to give birth to children.
We cure:
What it is important to know:
The most popular reasons for seeking help from a gynecologist are:
Copious discharge from the vagina;
Itching, discomfort in the vagina and vulva;
Pain in the lower abdomen and lower back (pulling, cramping);
Painful and profuse menstruation;
Violation of the menstrual cycle in the form of irregular monthly or prolonged delays in menstruation;
Bleeding;
Increased body temperature;
Pain during intercourse;
Bloody discharge after sexual intercourse;
Presence of sexual infection in a partner;
Infertility.
All these symptoms require immediate treatment to the gynecologist, because can occur, oddly enough, with many gynecological diseases, namely:
inflammation of the ovaries (adnexitis)
colpitis (inflammation of the vagina caused by sexually transmitted infections);
ovarian cyst
hydrosalpinx (inflammation of the uterine tube);
polyp of uterine cavity;
polyps of the cervix;
cervical erosion;
dysplasia of the cervix;
uterine leiomyoma;
hormonal disorders;
endometriosis of the uterus and ovaries.
Many diseases in women require urgent care. If you heard such a diagnosis as:
ovarian rupture (ovarian apoplexy);
pyosalpinx (purulent inflammation of the uterine tube);
torsion of ovarian ;
uterine bleeding;
bleeding in menopause.
You are shown urgent hospitalization and surgical treatment!
Also our clinic deals with the treatment of pathology in women during menopause:
menopausal disorders (hot flashes, micturition, insomnia);
omission and prolapse of the genitals;
itching, dryness and discomfort in the vagina, labia;
discomfort during sexual intercourse.
To deal with your problem and put the correct diagnosis can only a competent, highly qualified specialist.
Our main task is to diagnose and cure your disease as soon as possible.
We have all the necessary conditions for this:
modern laser, endoscopic and radio wave equipment;
comfortable conditions of stay in a hospital and a European level of service;
highly skilled personnel, which will help to solve any issues of maintaining and preserving women's health.
How to properly prepare for a gynecological examination?
perform the toilet of the external genitalia (from the vaginal discharge does not wash out, for a quality sampling of the material);
before a visit to the gynecologist, do not use vaginal suppositories for 3 days and do not do syringing;
it is desirable to shave the external genitalia;
if you plan ultrasound of the pelvic organs abdominal sensor, then come with a full bladder (within 2-3 hours not to urinate);
if you are planning to take blood for hormones, a visit to the gynecologist should be planned in the morning, on an empty stomach.