Children surgeon

, surgeon, oncosurgeon, ultrasound doctor


Ph.D.

of Medical

Experience - over 10 years

The doctor is engaged in the diagnosis and treatment of surgical diseases in adults and children from birth to 18 years. Specializes in elective and urgent surgery, surgical treatment of pediatric pathologies. Provides professional assistance in acute pathology of the abdominal cavity and chest organs. Specialist in the surgical treatment of appendicitis, hernias (femoral, diaphragmatic, umbilical), esophageal pathologies, complications of pneumonia. Conducts the correction of acute cavity conditions, is engaged in plastic restoration of the integrity of the skin. The main professional interest is urgent surgery, purulent-septic surgery, outpatient surgery, surgery of benign neoplasms. The doctor's credo "Hurry to do good"
Education and skills development:
2010 - graduated from the National Medical University. A.A. Bogomolets, medical faculty, specialization "Pediatrics"

2013 - internship in the direction of "Pediatric surgery"

2015 - clinical residency in the direction of "Pediatric surgery"

2017 - specialization "Ultrasound diagnostics"

2019 - specialization "General Surgery"

2020 - cycles of thematic improvement "Abdominal laparoscopic surgery of children" and "Emergencies and intensive care of newborns"

2021 - specialization "Oncosurgery"


Participant of international scientific conferences and seminars.

Author of 18 scientific articles and 1 patent for a utility model in co-authorship.
Directions in treatment:
• Diagnostics and treatment of surgical diseases in children.
• Diagnostics and treatment of congenital malformations in children.
• Urgent and elective pediatric surgery.
• Hernioplasty.
• Surgery to remove dropsy of the testicle.
• Pediatric urology.
• Other surgical interventions
Diagnostics and treatment of diseases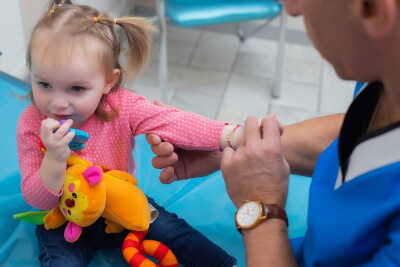 Ultrasound diagnostics
Surgical and conservative treatment of surgical pathologies
Reconstructive plastic surgery
All general surgical nosoologies of childhood, urgent and purulent surgical pathology in adults, oncodermatological pathology

Treatment methods:
Conservative, surgical treatment, minimally invasive interventions, laser techniques, cryodestruction


Treatment of diseases:


Appendicitis
Femoral, inguinal hernia
Hernia of the anterior abdominal wall
Umbilical hernia
Removal of soft tissue tumors
Treatment of cryptorchidism, congenital pathologies of the colon
Varicocele
Ingrown nail
Haemorrhoids
Rectal polyp
Anal fissure
Phimosis
Encopresis
etc.